Obituary for Gary Farrand Miller
MEMORIES OF MY LIFE

I write this letter to you, the people I love and leave behind. My travels on the roadway called life have taken me many places and I have met many people. Some of you will recall fragments of my journey because you walked part way with me; to the rest of you, I hope you find the story interesting and take the closing paragraph to heart.

Dad, Charlie they called him, drove with my mother, Dorothy, through the hot night from the dusty small oil field town of Avenal, California to Fresno in time for my earthly appearance on Friday morning, August 26, 1932. Dad worked in the oil fields for the Union Oil Company. Avenal was to be my home through first grade. When Dad got a promotion to the headquarters offices in Los Angeles, we moved to "civilized" Whittier, California. It was there my sister, Jean, and I lived through our high school years. Mother started her career as a teacher and eventually became Assistant Superintendent of Schools in Whittier.

A major contribuitor to my spiritual upbringing was my maternal grandmother, "Grammy" (Christine Farrand). When she would come to visit, she would sleep in my bedroom in the attic of our house (it later was finished into a comfortable large room). Grammy never failed to read me Bible stories which I loved and memorized. I was "required" to go to Sunday church services at the Friends Church which made no sense to me. As soon as I left for college I was happy to leave everything to do with church out of my life for many years.

I enjoyed building model airplanes and tinkering in my shop building all kinds of mechanical and electronic wonders. Electronics fascinated me only to be outdone by cars and girls when I turned about sixteen. Since WWII removed all the fit young men from the local work force, I started work at the Whittier Book Store when I was ten years old (1942) and continued working there until I left for college. Such was the demand for workers that I also worked for a doctor on Saturdays sweeping his office and was a janitor in my junior high school sweeping the rooms and taking out the trash every day after school. I learned how to work and also was rewarded with coins in my pocket.

I must have done well with my school work in high school since I was accepted at the prestegious Pomona College where I earned my BA studying physics and mathematics. Dartmouth College awarded me a Teaching Fellowship in the Physics Department while I studied for a graduate MS degree in Physics.

Upon graduation from Dartmouth I went to work for General Electric in Cleveland as a physicist working on the development of phosphors for television tubes. My love for building things and working out of doors lured me away from the academic life to start a construction company in Stockton, California. I began noticing ways to improve my house designs and eventually earned a registered architect/building designer license feom the State of California.. For the rest of my working career I pursued architectural design, usually building what I designed. My projects included a number of churches, several hundred homes, public and commercial buildings, and, my favorite, steel industrial structures.
Tiring of the designing and building business I purchased a small retail store in Arnold featuring fabrics, yarn, and needle crafts. Upon selling that business I worked for a construction company as an estimator and project manager on major commercial and government projects. My final employment was in Oregon as a salesman and project manager for a manufactured housing dealer. "Retirement" occurred in North Bend in 1997; that opened the opportunity for a multitude of volunteer jobs using the talents I honed in my working life.

To enable travel conveniencce to job sites all over the western states, I learned to fly and owned several aircraft. My favorite was a Cessna 210 which I flew coast to coast and from deep in Mexico to Alaska. My family, which included daughters, Debby and Nancy (Snoopy) and son, Ed, would often fly to Mexico for fishing and vacationing. I thoroughly enjoyed my kids while they were growing up; spending time in our mountain cabin in Arnold, CA, and skiing at many of California's ski resorts were favorites. Water skiing on the Stockton Delta was a popular summer activity. As I look back I am sorry that I did not get to enjoy those years with my first son, John. He was given up through blind adoption when I was in high school and I lost him for 62 years. We have become friends of a special kind since meeting.

All of my life I have had one or more dogs. As I grew older my dogs became important members of our family: Chrissy & Peppi, Button & Heidi, Muffin and Barney. I hope they will join me in my eternal house! I'm so grateful for Gigi, our rescue dog, who has offered comfort and support to both Edie and me for the past 8 months.

My friends always would write my address with pencil in their address books since I moved so often. From Whittier I lived in Claremont, CA, then Hanover, NH. From there to Euclid, Ohio, Stockton, CA. And then beautiful Arnold. Back to Ventura, Ojai, Corcoran, and again Arnold. From there to Murphys and leaving California to Brookings, OR, North Bend, Bend, and to Pine Grove in CA. From there to Hayden Lake and Hayden in Idaho. Kentucky called for a short while and back to Hayden. Something like twenty addresses! Most of my homes were designed and built by Edel and me. Lots of moves, lots of friends met in each location.

But my story as told above leaves out two vital parts of my life. It was in 1981 in Ventura, CA, that I met Edel (Edie), a striking blonde girl with a fascenating Norwegian accent. I know now that God created her exactly and specially for me. The ensuing marriage has been everything a man could hope for and more than most deserve. As a big bonus, I became "Dad" to Noreen and David who have become just like "my own". I love you, Tulle!! Our life together in beautiful northern Idaho has been like a dream.

Looking back on my life I can see the Hand of God guiding and protecting me. He has provided for all my needs even though I so often forsook Him. He spared my life in an airplane crash and several car wrecks. And He led me to learn of His ways and finally to accept Him as my Lord in the waters of baptism in 1972. I became interim pastor at the Arnold Community Church. But it was not until I became one with Edie that my relationship with the Lord began to mature. I was asked to be the administrator of the Calvary Chapel Church in Pine Grove, CA, and later the administrator of the Calvary Chapel Church in Bend, Oregon. The fireside in our homes was often the scene of home Bible studies. Edie and I organized and led tours to Israel, going five times. We were proud to produce an event featuring comedian/evangilist Ken Davis, attended by over 2100 people. But itt was not until August of 2013 that I was convicted of the sancity of the Sabbath and have ever since been an active member of Summit NorthWest Ministries, a Seventh Day Adventist church in Post Falls, ID. There I taught an adult Sabbath School class.

On December 27, 2019, I entered the peaceful sleep called death. I know that I will be awakened by Jesus when He returns. My sleep will be only a twinkling of my eye, longer for you who remain. I look forward to meeting all of you again on that glorious day when The Lord returns to claim His people.....it is up to you to be one of His. Reach out and take His extended hand now while you can!

My love to each of you and especially to my Princess,

Please come to the celebration of my life. I have picked out my favorite music and my friends will share a few stories.

Summit Northwest Ministries
1486 W. Seltice Way, Post Falls

3 pm Memorial Service on Saturday, January 11, 2020 -- preceded by a 1:15 luncheon

NO SUITS, NO TIES, PLEASE!!
To send flowers or a remembrance gift to the family of Gary Farrand Miller, please visit our Tribute Store.
Previous Events
Memorial Service
Summit Northwest Ministries
1486 W. Seltice Way
Post Falls, ID 83854
A luncheon will be served starting at 1:15 PM.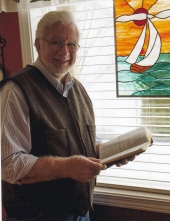 Thank you for sharing your
memory of Gary
Provide comfort by sending fresh
flowers from our local florist.
No thanks, please don't show me this again.